Japan is notorious for being difficult to eat gluten free. I've been in Japan for a few years now, and being a celiac, finding a place to eat out has always been a pain.
Recently, though, I found a completely gluten free restaurant called "Gluten Free Cafe Little Bird" in Tokyo, about ten minutes from Shinjuku station.
This is a hole in the wall restaurant, so you should make sure you have your GPS on when you go check it out. 
How to get to "Gluten Free Cafe Little Bird" in Shibuya Ward
Getting to the "Gluten Free Cafe Little Bird" is a bit tricky especially since the place look so residential from the outside. So to aide those who might need a little help getting there, here is the step-by-step direction to the restaurant. 
From JR Shinjuku station, hop on the Odakyu Line towards Honatsugi, and hop off at Yoyogi-Hachiman station
Take the south exit
Once you are outside the station, cross the street and turn right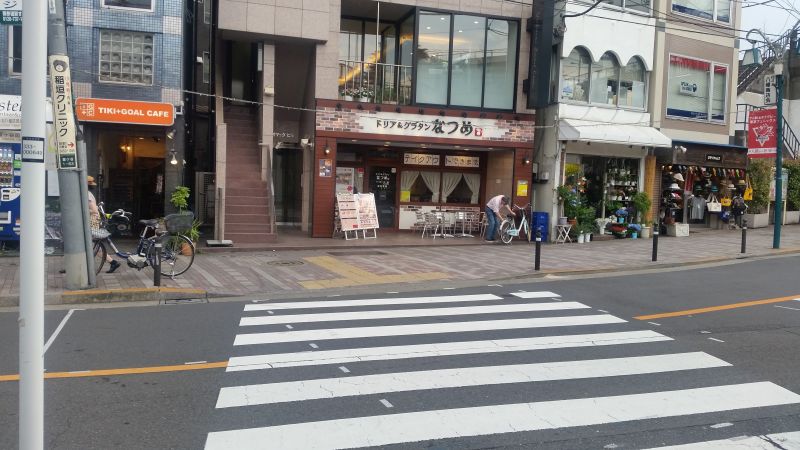 Walk under the overpass and turn left after you pass the bicycle parking lot
Walk for about a minute or two
Soon you will see a shoe store to your right
You should now find the "Glutenfree Cafe Little Bird" to your left after passing the shoe store
There is an Okinawa themed restaurant on the first floor of the building
An unassuming place for a restaurant but here it is, your gluten free heaven
About the "Gluten Free Cafe Little Bird" Restaurant
It is very rare to be diagnosed with celiac in Japan so this was my first encounter with other fellow celiac patients out here. The owners of the restaurant are celiac hence everything on the menu is gluten free. There are dairy free menus, and they can make a vegetarian menu as well, so if you are in need of special diet, this place will be your best bet.
The restaurant is very tiny and cozy. Maximum capacity is probably between 12-15 and there is no waiting area. They don't take reservations so, ummm, good luck (I once got there five minutes after they opened up at noon and the place was already packed.)
The menus and signs are all in English. They know their customer demographics, since all the customers in the restaurant were foreigners except me. 
Things you can eat here:
Pizza
Burgers
Karaage, Gyoza(Dumplings), Fries, Salads
Pasta
Waffles
Noodles (Ramen, Udon, Yakisoba)
Dessert (Rice Rings, Parfait, Ice Cream, Waffles)
Burgers Made With Rice Choux Buns
The buns they use for their burgers are made fresh on site with rice flour, and they call it the Shu-Burger. "Shu" is the Japanese spelling of "Choux", the pastry used for cream puffs. I ordered the L.B. Burger and it is...huge.
Be prepared to make some mess because it is not easy to eat, and try to eat it fast too because soggy "shu" bun is not as good. You can add toppings like egg, avocado, extra bacon, and cheese for your burger, so you can let your pent up frustration loose of not having to be able to eat a decent burger for years in Japan. 
By the way, like so many restaurants in Japan, you can't take home your leftovers. I know it doesn't make sense because you paid for it, but that's how it is here so you should restrain yourself from ordering everything on the menu and just order what you can eat in one sitting (There is a take out section in the menu though.) 
My lunch was 1200 yen for the burger and 400 yen for tea, for the total of 1600 yen. Not bad at all for a delicious burger and the comfort of knowing that I'm eating something safe for myself.
"Gluten Free Cafe Little Bird" In A Nutshell
Tasty, affordable, and a gluten free heaven
Very foreigner-friendly, with menus and signs in English
Can possibly accomodate your other food allergies
Cash only
The restaurant is a very rare find in Japan where everything is gluten free and the owners know what the heck they are talking about when it comes to celiac or gluten. It is conveniently located, just three stops from Shinjuku station and a couple minutes walk from Yoyogi-Hachiman station in Shibuya ward. So when you get sick of eating sushi all the time, make sure you check this place out to treat yourself to some gluten free delish dish.
Hope you find my review helpful. Please let me know if you have any questions, comments or recommendations. Bon apetit!
Basic Information
Restaurant: Glutenfree Cafe Little Bird
Address: JP Building 3F, 1-1-20 Uehara, Shibuya-ku, Tokyo
Phone: 03-3460-8282
Hours: 12:00PM - 9:00PM
Websites:
https://www.facebook.com/cafe.littlebird/